Weapons Cards
Another, minor, hassle with any RPG is making sure you've got the statistics for all the weapons everybody's using, and keeping track of ammunition. Well, David J. Golden. solved that problem for use by using Microsoft Word to create index cards that contain all the needed information at the ready, including those dinky ammunition records. Here's a sample card, front and back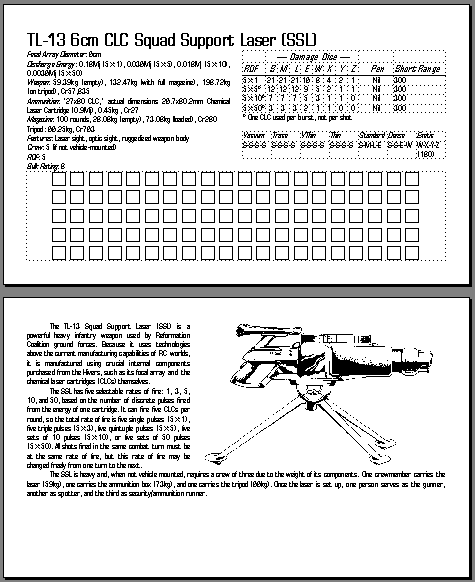 This is not a 2300 weapon, but it gives and example. The data cards I created do not have pictures, but as noted on the intro pages, they can be created that way if that is what everyone wants
Dave uses a nifty program for Windows called Clickbook, which intercepts Word's output and formats it so he can get four cards, front and back, on a single sheet of index card stock fed through his printer. Then all he needs to do is cut them out, give each player a card for his/her weapon(s), and make surehe has one for each of the NPC weapons. No more rooting through tables looking for penetration, range, etc., and making transcription errors onto a notepad.
I've started posting the ones I have here. They're in Microsoft Word 6.0/7.0 format. For those who are interested in creating their own, the only font used is "Square721 Cn." If you don't have that one, you either need a condensed font of your own, or download the fonts from Dave's Software page.
For those who don't have Microsoft Word, don't despair. Microsoft has made available a free Word viewer which will allow you to view and print them with all the formatting, just as if you were using Word itself. The only thing you can't do using it is edit files. In fact, it can even be used as a Helper App in your Web Browser, to view Word documents online. Check it out among all the other free stuff at Microsoft's Web Site.
I would like to offer a very heartfelt thanks to Dave Golden. He has done a lot of work for Traveller and made this page possible. I have even used his words to a large extent. He makes more sense than I do :) Please Visit Dave's Traveller Site.